After attending the BQ National Emerging Entrepreneur of the year awards last night, our MD, Glyn Davison woke full of positive energy and wanted to explain why.
As a guest of Atom Bank (thanks Mark Mullen, Craig Iley, Mark Dolphin and Graeme Moore) Glyn heard Keynotes from Mark Mullen, CEO of Atom Bank and Ajaz Ahmed, Founder of Freeserve and was amazed by both stories of business and passion. As the political world fills the media and social media channels with negativity it was great to see the drive and passion to do the right thing by people and this shone through last night.
"I would encourage you all to turn off the news and go talk to the thousands of entrepeneurs up and down the country that are our future"
The language and purpose of all the business owners on the stage resonated with the sentiments of Simon Sinek in his book, Leaders eat last and both Glyn and all the team here at Harlands are genuinely excited by what this generation of business owners can and will do for our country.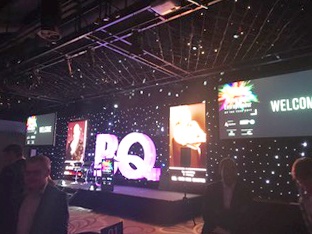 There was a real buzz around the awards with some fantastic Entrepreneurs on the shortlist and it just highlighted the talent across the UK. Glyn often talks of his excitment as watching the growth of businesses and we will all be watching to see what the future holds for these Entrepreneurs. You can see further details of BQ Live over on their website here.
"thrive, grow and show the politicians and corporate money men how it should be done"
Our MD has concluded that he believes entrepreneurial business can and will lead us out of the mess and confusion the media and politicians create on a daily basis.
It's people who matter and those businesses that understand that and put this at the heart of what they do will thrive, grow and show the politicians and corporate money men how it should be done.
A brilliant night with the brightest entrepeneurs in the country again highlighting just how talented and creative this generation of business owners are, as well as being driven to do the right thing by people.