Everytime we watch the Monaco Grand Prix we wonder what life must be like aboard a super yacht. Well one company who can tell us is West Nautical. We spoke to Managing Director of the Newcastle office, Geoff Moore on all things super yachts. If you dream of spending a holiday on a super yacht or even owning your very own, then West Nautical are the people to speak to. Established in Russia, they now have offices across most of the world's yacht paradise locations, including the South of France, and we asked Geoff what sort of people look to charter or own a super yacht.
"Anyone looking for something different"
Chartering a yacht is a great way to enjoy a private, luxury holiday with your family or friends and the huge amount of options available allow for a very personalised trip. Of course, for the ultimate in personal prestige buying a super yacht is the way to go.
Thanks to their specialist team of industry experts, West Nautical can provide the service levels of a large corporation, but in the personalised and bespoke way that only a smaller company is able to offer.
Utilising their years of experience and a first-class service, West Nautical can accommodate every part of your yachting experience: from buying or chartering a yacht, to hiring Captains or crew. It's this level of service and commitment to their clients that has seen West nautical go from strength-to-strength over the last twenty years.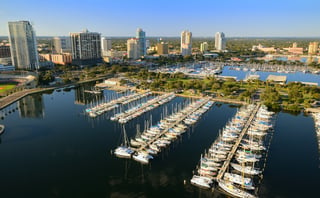 Late last year West Nautical commissioned their biggest yacht to-date - a 52 metre super yacht for a client - and they are now looking after the full project management of the build.
West Nautical handle clients of all sizes and have the experience to make your holiday or ownership everything you imagine it to be.
To find out more about West Nautical you can find their website here.
We had the pleasure of filming with Geoff to hear about the company and they had some kind words about us as well.
West Nautical Testimonial for Harlands Accountants from Harlands Accountants on Vimeo.
Read some more about our amazing clients:
Radio adverts the professional way
Keep your business safe before key hires, find out how here