People spend a lot of their life working hard. They go out to work for the best part of fifty years, or even more, to bring in money to their household. Towards the end of their life., people consider where their assets will go when they die. They think about who they want to leave their heirlooms, their money and their property to. The question many people as is how can I legally stop paying inheritance tax?
The middle class are being dragged more and more into taxes on their estate with the mix of two main factors
The increase in property prices across the country
The fact that the thresholds for inheritance tax weren't updated for a long time
The government takes billions of pounds in inheritance tax every year and this figure is rising all of the time. The days of leaving your home to your loved ones look under threat from the way we pay for social care as well as the tax man looking for their cut. But this doesn't have to be the case. As more people ask us the question how can I stop paying inheritance tax we see first hand the impact of prudent planning on the ever further reaching net of inheritance tax.
How can inheritance tax affect what I leave to others?
In the past, it was the richest proportion of society that ended up with an inheritance tax bill. They paid because they had assets and property far beyond the reach of ordinary people. But the way that taxes are levied in this country are always subject to change, the news reports on changes, proposed changes and rumours all the time. The answer to the question how can I stop paying inheritance tax becomes cloudier for the average person every day of their life. That is why we have a specialist team that has been set up to help people in this area.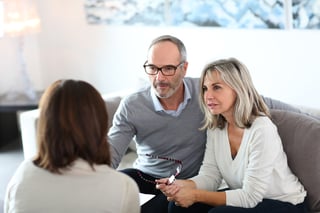 Inheritance tax rates and what they mean to you
So, you need to think about how all of this might affect you. The threshold for inheritance tax is £325,000 (potentially a little higher if you have a property that you're passing to your spouse or children), although you can leave your whole estate to your spouse and increase their limit to £650,000. But an estate can soon add up to beyond this when you consider –
All property owned
Any other saleable assets such as art or jewellery
Money in cash, bank accounts and building society accounts
Investments such as shares or ISAs
This means that more people than ever build up a tax liability for their loved ones when they pass away. It can be a sobering thought that the tax man will take a cut of 40% of everything above the threshold. If you are asking the question how can I stop paying inheritance tax then you need to speak to us as soon as possible. We will look at how you can take steps to mitigate or remove your chances of leaving a tax bill payable within 6 months of your death.
How can I stop paying inheritance tax when I die?
The solution is to plan ahead. We suggest that you look at this in your forties or even earlier. This gives you plenty of time to make the provisions that will legally put your estate in the best situation possible to lessen or even remove the inheritance tax bill you might face. This means you put the money in the hands of your loved ones rather than in the hands of the government. We all work hard for a living and the last thing we want to do is to lose a chunk of what that hard work has paid for.
Not only this, but you need to review the situation on a regular basis because of –
Potential changes to your circumstances
Changes in tax legislation
The fact that certain parts of the plan might need 7 years to go through the system
There are some elements of inheritance tax planning that are better explained face to face so please get in touch and we can discuss your concerns and show you how an effective plan can put your mind at ease in this area of your life.
Read our faq's on IHT here. /inheritance-tax-frequently-asked-questions