It has always been said that we are pretty nutty, well at least some of us. But we don't even compare to our new client, Manílife. If we asked you if you prefer smooth or crunchy you might understand what we are talking about. Of course it's Peanut Butter and none other than Manílife. Manílife specialise in Peanut Butter but with a twist, they sourced the greatest peanuts on earth and built blends meticulously over months. That and the peanuts are from Argentina! You might be thinking the same as us, how did this happen? Well to understand that you need to understand Stuart, Managing Director of Manílife. Starting life as an accountant he soon realised, unlike us, he didn't really enjoy the job so moved to Argentina, as you do!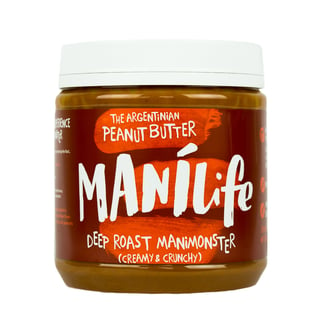 After falling in love with the country and peanut butter whilst working at a peanut butter enterprise where he saw the benefits of peanuts from Argentina. Stuart noticed that the UK wasn't talking about peanut butter like it does chocolate and coffee. Stuart wanted to change that and after a close relationship formed with an awesome farm with awesome peanuts, Manílife was born.
After a lot of trials and tribulations, 100 volunteers, 5 blenders and 10 kitchens, Manílife now has a large range of products all made from Argentine peanuts sourced by Stuart himself. You can see their online shop here. They also work with a range of suppliers and are adding more and more all the time. So keep your eyes peeled in a shop near you.
Stuart set out to build a community and in a market dominated by mass production has changed the way we see peanut butter. Manílife is about the people, community and of course the deliciousness of the PB!
We find Stuart's story of how the Manílife brand started amazing and we asked him for one piece of advice for aspiring business owners.
"Just do it, if 51% of your decisions are good ones you've smashed it, the
key is to make lots of decisions"
We couldn't agree more and after tasting Manílife for the first time on a recent visit to the company we can honestly say watch this space.
Like this? Why not read some other client blogs which can be found here.