With more awards than even they can keep track of, a huge variety of products and of course Harlands pie loving approval, it's easy to see why Knitsley farm shop is so popular. As we celebrate local business, read how this shop has become one of the most popular in the North East. Edward and Rachael have worked hard since 2008 to make the shop the success it is today. One of the key things for them is that most the produce sold is either from their own farm or from the local area. They believe now more than ever that people like knowing where their food has come from and the high quality you get from buying locally. If the taste is anything to go by then we certainly agree.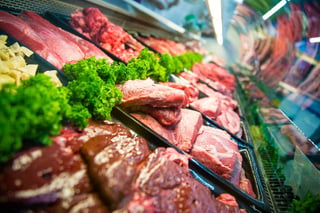 Compared to the larger shops, with a local touch and expertise you know you are getting fresh, quality food, with the staff able to advise you on anything you need. Whenever our staff visit for their pie fix they always say it is really friendly and the quality is always amazing.
It seems that the awards industry also agree with a shelf in the store now dedicated to awards, they seem to be never ending including a Great taste award gold one star and several regional awards. Recently they were also nominated for Family Farm of the year. These awards go hand in hand with the great philosophy of having as little waste as possible, producing as many of the products as they can with as much of the process done in house. With expansion plans already going ahead there are no signs of slowing down.
Edward and Rachael have grown a successful retail business at a time when the industry is struggling and with very little previous experiance which is testiment to them and the local community who shop there. If you are ever in the area we highly recommend a visit where you can even enjoy some home baked goods from the in store bakery or sit in the cafe and enjoy fresh cooked food and cakes.
To take a look at the inside of the store you can see them on the TV in a show called Landlords later this year.
To find out more information or view some of the amazing food visit Knitsley website
Why not read more about North East business:
North East business helping convert your website visitors