We have plenty of really chatty team members here at Harlands, however we can't even compare to our client, Chat Heroes. As a market leader in website chat boxes you have probably come across their work without even knowing it. Chat heroes came about after they spotted a gap in the market and had the vision to go the non pay per-lead route, unlike there competitors. Even with the difficult barrier of getting companies to trust their online clients with the Chat Heroes team they have gone from strength to strength. This shows their clear ability to understand a company and get that message across through the use of a chat box.
If like here in Durham you are currently enjoying the first signs of summer then just think how much more relaxed you would be safe in the knowledge that any potential leads that are visiting your site will be engaged with and passed straight to you. You can even personalise your chat box if that's the way you roll.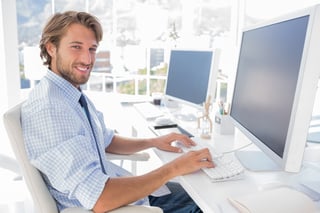 Chat Heroes share our passion for helping charities and have recently launched the worlds first digital fundraising web chat orientated system for charities.
By working with other businesses who sponsor the chat box on a charities website the charity can get the chat box for free. Find out more about the charity chat box.
We asked Chat Heroes for their advice to aspiring business owners and they said the best advice they can give is to plan properly, be flexible and yet determined and surround yourself with realistic but positive people.
Certainly sounds like great advice to us. If you like the sound of Chat Heroes and want to find out more then you can visit Chat Heroes.
Like the client stories? Take a look at these great companies:
North East fitty, fitting offices in style