Auto enrolment is coming. I guess you have heard. Small businesses need to be ready to enrol their team in a pension scheme. The larger companies in the UK have already been through the process, and soon every eligible business in the UK will have to make plans for their auto enrolment. It is enshrined in law and the end date is fast approaching. Are you ready? Do you know when your staging date is? Have you started to make plans? Don't worry if you haven't got everything in place yet. Here is our guide to auto enrolment in six easy steps that will help you understand what you have to do –
Step 1 is where you find out what auto enrolment is. The government is looking to help people save for retirement. The state pension isn't enough to live on and more people are living longer. Something had to be done. Eligible companies have to set up an auto-enrolled pension for their employees. Without one in place you are subject to some pretty heavy penalties that can include fines, backdated payments and even the potential of a prison sentence can await offenders.
Step 2 is finding out your staging date. This is the point in time where you must have your auto enrolment pension in place. Miss it and the fines stack up every day. You may have already received a letter from the Pension Regulator about this. Don't throw it away. It has the important date on it. If you don't have this letter then you can go on to the Pension Regulator website and key in your PAYE reference for a staging date.
Step 3 is to determine whether you are a business that needs to set this up or not. Most companies will have to get their auto enrolment in place, but there will be a few that are exempt. Basically, if you have an employee that fits the following criteria then you will have to be ready for your auto enrolment staging date –
An employee that is over the age of 22
An employee that is under the current pension age
An employee that earns £10,000 or more
If you have at least one employee that fits into at least one of these criteria then you have an obligation under the law to provide an auto enrolled pension
Step 4 is to complete your declaration. Whether you need to set up auto enrolment or not, you will need to complete a declaration to the Pension Regulator. This shows the steps you are going to put in place with regards your auto enrolment. Failure to complete this by the required date leads to a fine.
Step 5 is to decide who will set up your auto enrolment pension. At Harlands we can deal with this for you, to take all the stress away. We liaise closely with financial advisers that will present a solution to you based on the circumstances of your business. We can set up all the payroll information so the process happened seamlessly to you. Speak to us today to learn how this stress-free process can be started.
Step 6 is where your team receive all the information they need about their pension. This means that they understand what it means to them. You have a tea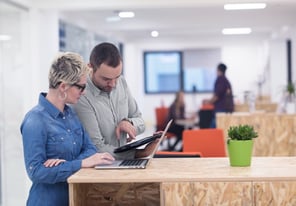 m of happy employees and avoid the kind of fines and bad publicity that no business needs. There will be phone numbers if your team have any questions and we can take care of all the payrol
l aspects for you, so it runs like clockwork.
Small businesses are being asked to help the country out of a pension black hole. But so many small businesses just don't know enough about pensions or the financial side of things to be able to administer this themselves. That is where we come in. We can make the process hassle-free so you can get on with running your business. You are also in the situation where you avoid the fines that can run into thousands of pounds per day, depending on the size of your company.
Every eligible business in the UK must have this in place soon. February 2018 is the last staging date so make sure you know what this mea
ns to you and that you get this arranged in plenty of time.